Classic Reporting and Writing
Multimedia Journalism
Stories for paper pages and for screens of all kinds
and journalism mixes produced with multimedia.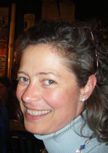 I have spent most of my career at newspapers, writing straight news, news features, literary journalism and essays. Since the digital media revolution began to unravel and rework some of the old ways, I've sometimes incorporated multimedia to tell stories in layers. This site includes a sampling of work that illustrates my approaches. In my text stories, I try to open unique communities to
my readers or invite them into another person's life experience. Or, sometimes, simply to send them on a
word trip that leaves them looking at their world a little differently. With multimedia, I can supplement my prose pictures to add sound and images that enrich and expand the narrative.

Highlights.
--"Videos" composed of still photos and sound that
address wealth, poverty and ambition for change in
Buffalo. Text stories built with video inserts
that work with the words, like paragraphs.
--A volunteer trip to Ghana, writing seminars with staff at the Daily Graphic in Accra and a teaching experiment to help people quickly distill material, make stories and use the narrative arc to keep the stories interesting.
--News essays in old-school print. A series in the Buffalo News about idiosyncratic local gathering places that reveal Buffalo, its personality and how people make life in this
city of bygone riches on Lake Erie: From rail fans who meet at the Depew train station each night to the expats from Soviet bloc countries who sweat and drink tea at the
Schvitz and the summer scene at the drive-in.