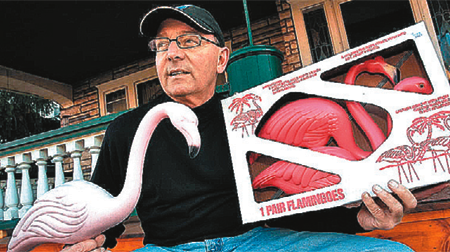 Vision of pink flamingos flocking here

Could plant's closing feather local nests?

BUFFALO NEWS

Tuesday, October 31, 2006
Section: News Page: A1
To one politician, the news that pink flamingo production has been suspended at the Massachusetts factory where the lawn ornaments got their start sounded like an amusing economic-development opportunity. Perhaps state grant money could be found, and pink flamingo manufacturing could resume at a factory in the Buffalo suburb once known for having a preponderance of the plastic birds staked on its lawns.
"It could become the town bird," joked Assembly Majority Leader Paul A. Tokasz, a Cheektowaga native who is not running for re-election in the town once well-known for its flamingos. "And you could get a tax break if you put one on your lawn."
The pink flamingo has had a strangely powerful effect on Western New York. Those who grew up a generation ago remember it as a favorite decoration in some neighborhoods.
In the 1980s, an entrepreneur reacted to the birds' tacky-yet-cool reputation by naming his new Allen Street bar the Pink Flamingo to better attract the alternative "misfit" crowd.
An organizer who grew up in the Polish part of Buffalo's East Side made the flamingo, a symbol of summer in the city, the official mascot of the Subaru Four-Mile Chase. This July, the 26th year of the competition, some 200 pink flamingos were given out as race prizes instead of medals.
Union Products, of Leominster, Mass., first began making the birds in 1957. The company, which stopped producing flamingos and other lawn ornaments at its factory in June, is going out of business Wednesday -- a victim of rising expenses for plastic resin and electricity, as well as financing problems.
After being designed 49 years ago by Don Featherstone, of Leominster, the flamingos have since been celebrated as a tribute to one of nature's most graceful creatures and derided as the epitome of American pop culture kitsch.
Cheektowaga Town Supervisor Dennis Gabryszak, who is campaigning for Tokasz's seat, said he would be glad for good-paying jobs at a hypothetical pink flamingo factory. But he is not interested in continuing the association between the lawn ornament, its reputation for poor taste and Cheektowaga.
"In its day, Cheektowaga had more than its fair share of pink flamingos on lawns," said Gabryszak. "We're beyond that." Even so, people at Union Products expect manufacturing of Leominster-style pink flamingos will continue somewhere.
"We think the flamingo will go on," said Keith Marshall, Union Products' chief financial officer.
Other companies' knockoff versions of the Featherstone original remain in production. But the uncertainty surrounding the original has aficionados snapping up what they can via the online auction site eBay and elsewhere in case Featherstone versions go out of stock for good.
The Subaru Four-Mile Chase organizer, Jim Nowicki, still has the pair of faded pink plastic birds his parents kept on the family lawn on the East Side in the 1970s and 1980s. He has since expanded his collection to include a brass version, bar stools upholstered in pink flamingo fabric and a pair of pristine birds still nestled in their original box from Leominster.
"To me, it's going to be a collector's item," Nowicki said. "And I'm a collector."
To some, the birds appealed because they symbolized bad taste. They became the namesake of the 1972 John Waters film "Pink Flamingos," an epic to excess that celebrated a range of perversions. Some residential developments even banned flamingo ornaments from lawns.
That was part of the allure for Mark Supples, who spent part of his youth in Cheektowaga. He liked Waters' work, and when he opened the Pink Flamingo bar at 223 Allen St. in 1983, he wanted a name that would be a haven for "people that got beat up in other bars."
"It could be a punk rock bar. It could be a cheesy lounge. It could be gay," he said. "It was kind of to scare off normal people."
Supples, who now owns the Buffalo restaurants Mother's and Jimmy Mac's, sold the bar in 1989. The place is still open and still known for drawing an alternative, black-clad, tattooed and pierced crowd, along with nostalgic types who came of age in the 1980s.
People now call it "The Old Pink." Supples held on to the "Pink Flamingo" name rights and refused to turn them over to the bar's current owner.
"I just don't want anyone else to sully the reputation," he said.